Our EMT training will prepare you for the National Registry Exam to become a licensed Emergency Medical Technician with Superior Ambulance! 
Don't see a class that works for you or missed a class that already started? Join our waitlist and get notified when our next upcoming classes start!
You'll receive exclusive information regarding our FREE EMT classes with top-of-the-line training, instructors and continuing education. We look forward to seeing you in class!
Superior EMT Training offered across 5 states
Superior Ambulance offers EMT classes! Our experienced educators share their passion and experience with dynamic, hands-on instruction, preparing aspiring EMTs for their new careers. Our students boast a pass rate of over 90% on the national exam. Students are immediately hired as Superior Ambulance EMTs after successful completion of the class and passing the national exam. If you're ready to start your EMS career, apply now for our EMT Certification Program!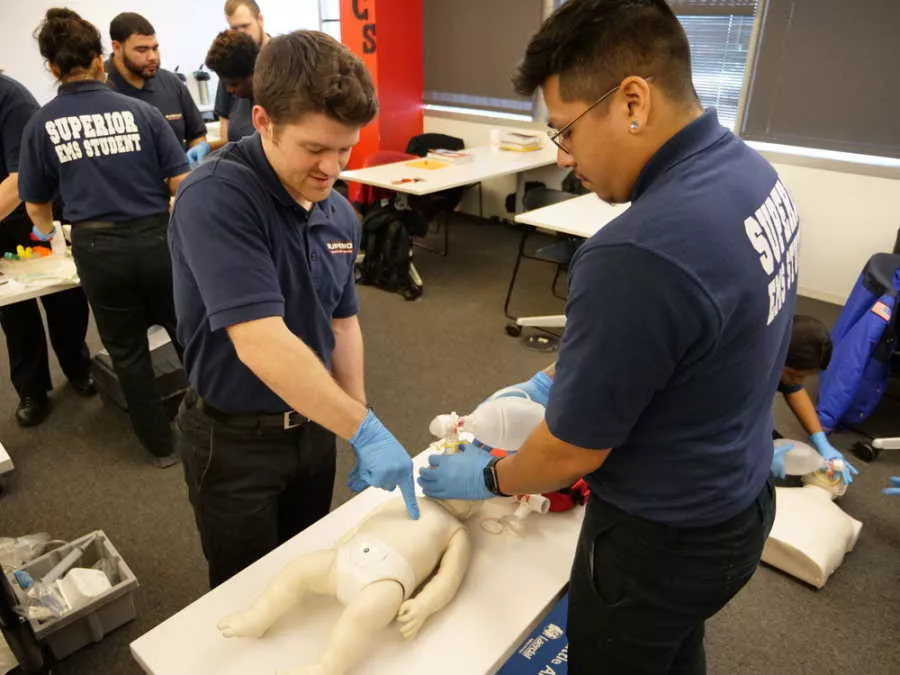 Training is a 12/13-week Accelerated EMT-B Certification Program (Monday, Wednesday, Friday from 8AM-5PM) that will educate and prepare you to successfully complete the National Registry Exam and become a licensed Emergency Medical Technician – Basic, aka EMT-B. Students are hired at Superior to begin their new careers after successful completion of the class and passing the national exam. Need a job while you're enrolled in classes? We can help with that! Here are links to sign up for upcoming classes!
The EMT classes at Superior Ambulance opened the door to my EMS calling.
"The teaching style was open, fun, and allowed us to show our strengths and let our personalities shine through. I am grateful to have been a student here!
What's it like to work
at Superior Ambulance as an EMT?